FileMaker Go 12 includes the following new/updated features:
Modernized Look
In order to modernize the look and feel of objects on a layout, FileMaker Pro 12 contains a new layout and rendering framework which has a significant impact on FileMaker Go 12, since many areas in FileMaker Go were re-implemented to take advantage of the new framework to render layout objects.
The look and feel of layouts in FileMaker Go 12 are consistent with FileMaker Pro 12 layouts. It is also important to point out that layouts in FileMaker Go 12 look different than layouts in previous versions of FileMaker Go. FileMaker Go 12 also inherits some 508 Accessibility features introduced in FileMaker Pro 12.

Printing
No new printing features have been added to FileMaker Go 12 but it introduces new layout object drawing. The actual drawing of most layout objects is all new and is cross-platform.

The exact look of layout objects, table headers, etc. is different from the previous versions of FileMaker Go but is consistent with the Print / PDF output from FileMaker Pro 12. Because of these minor output differences the page breaking may be different from previous versions of FileMaker Go.

In previous versions of FileMaker Go the quality of some output was poor. FileMaker Go 12 improves the output quality for embedded PDFs when generating PDF output.

New File Format and Application ID
FileMaker Go 12 introduces both a new file format (so older files need to be converted) and an App ID change (so that FileMaker Go 12 co-exists with older versions of Go on a device).

FileMaker Pro 12 uses a new file format. The desktop products are able to convert older files to the new format, but FileMaker Go 12 does not, so old files need to be converted on the desktop product before they can be used in FileMaker Go 12.

Additionally, FileMaker Go 12 has a new App ID, which means that when you download it from the App Store, it does not replace previous versions of FileMaker Go; i.e. if you have a previous version of FileMaker Go on a device and then download FileMaker Go 12 you will have both the old and new version of FileMaker Go. Any files that were in the Documents directory of the older version of FileMaker Go will remain there.

It is important to note that existing .fp7 files do not work in FileMaker Go 12. Also, they are not displayed in the Recent File List browser. However, they are displayed in the Files on Device list, under the "Other Category".

If you have documents on a device and wish to use them with FileMaker Go 12, they need to be copied off the device, converted using FileMaker Pro 12, then put back on the device into the Documents folder of the FileMaker Go 12 app.

If you are using files remotely, then the copy of FileMaker that is serving the files needs to be upgraded and the files converted; after that FileMaker Go 12 can connect to them remotely.

New Chart Types Support
FileMaker Go 12 supports the new Chart Types that were introduced in FileMaker Pro 12.

The following chart types are supported in FileMaker Go 12:
Column
Stacked Column
Positive/Negative Column
Bar
Stacked Bar
Pie
Line
Area
Scatter
Bubble
Remote Container Support
FileMaker Go 12 supports FileMaker Pro 12's new "Remote Container" feature. However, not the "web container" option. Remote containers in databases accessed remotely work exactly as they would for FileMaker Pro 12. Remote storage of files is NOT allowed in databases hosted on mobile devices. Databases to be transferred to the device will need to have all external files embedded into the main database file prior to the transfer. 

Web containers as implemented in FileMaker Pro appear as standard containers on the mobile devices. However, you can click on the container and select "View" for PDFs, or "play" for movie and audio files. They'll be brought up right within FileMaker Go, and do not require switching to another application.

You now have many more options when inserting files into container fields. These include: 
Camera

Audio Recording

Signature

(not new to FileMaker Go 12)

Photo Library

(not new to FileMaker Go 12)

Music Library

Files
You can now export files from a container, which appear in the improved file list.

The file browser for FileMaker Go 12 lists files sorted by file type. This makes it much easier to locate different file types. If you wish to delete a file, simply swipe from left to right over the file name. This displays a "delete" button.

The Insert File, Insert Image, Insert Audio/Video, Insert QuickTime, Insert PDF, script steps are compatible with IOS since a file browser has been added for you to select a file from the documents folder.

Render Tab Panel Conditional Formatting
FileMaker Go 12 supports the Tab Panel Conditional Formatting feature that was introduced in FileMaker Pro 12.

Tab Panel Conditional Formatting in FileMaker Pro allows you to apply conditional formatting to tab panels, similar to how conditional formatting is applied to fields.

Export Records and Save/Send
FileMaker Go supports the full depth of export functionality found in FileMaker Pro 12, with the exception of supporting fewer file formats.  FileMaker Go supports a touch appropriate user interface to cover the most common export scenarios.  To keep the user interface clean and simple, some customization of export options ARE NOT available through the FileMaker Go user interface.  However, the full range of export options are available by way of scripting in FileMaker Go.

Save/Send and Open Snapshot Link
FileMaker Go 12 has full support for creating and opening Snapshot Links.  Snapshot Links created in FileMaker Pro are readable using FileMaker Go and vice versa.  The Snapshot Link feature is available in FileMaker Go through the user interface as well as through scripting.

Customer Feedback Capability
FileMaker Go 12 offers the capability to capture customer information such:
Customer Name
Email
Comments/Feedback
FileMaker Go 12 adds access to the Customer Feedback section in the FileMaker Go main application menu: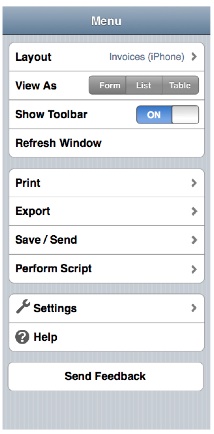 After tapping "Send Feedback", you are taken to the FileMaker Feature Request web page where you can provide appropriate feedback for iPhone and iPad versions of FileMaker Go.

Location Functions
Supports the two location calculation functions:
Location function – In FileMaker Go, returns a device's current position in one line on a form.
LocationValues function – In FileMaker Go, returns a device's current position using a set of return-delimited values.
Created: Oct 27, 2011 10:37 AM PDT
Last Updated: Apr 04, 2012 05:43 AM PDT
We welcome and read all feedback, please tell us how we can make this answer more useful.
Visit the FileMaker Community